(Source:https://vpawards.com/winners-2021/)
/https://vpawards.com/winners-2021/)
The McLaren x ONESEC Limited Edition was acknowledged at VisionPlus Awards 2021 (Arabia) as being an innovative
and disruptive force in the eyewear industry.
Developed in Switzerland during 2011, ONESEC has received widely favorable reviews since its launch, most notably by
winning Most Innovative Tech as well as Most Innovative Design in the 2017 Hong Kong Optical Fair.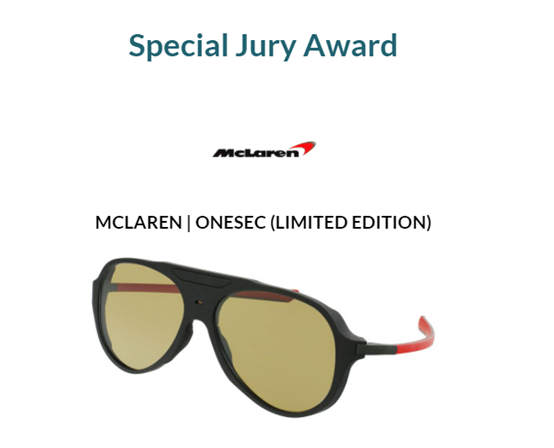 In addition to the above, ONESEC has also received a Special Jury Award at the VisionPlus Awards 2021 (Arabia) for its out
of the box thinking.
ONESEC will launch in Taiwan on the 11th of November 2021 and will be available in four styles: Mark I, Aviator, Lynx & Nomad.
超跑McLaren麥拉倫品牌與ONESEC電致變色鏡片技術合作,推出全球限量太陽眼鏡款式,以電製變色鏡片特色在國際眼鏡展
VisionPlus Awards 2021 (Arabia) 獲選為「評審團獎」的殊榮,評審一致認為此電致變色技術是這次所有參賽眼鏡作品中,
最值得被拿來提倡的功能,ONESEC智能變色鏡片技術也是一項跳出傳統框架的創新功能,深受好評。
備受肯定的智能太陽眼鏡ONESEC品牌,將電致變色鏡片技術發展到太陽眼鏡產品,在2017年獲得香港國際眼鏡展科技創新銀奬,
2018年榮獲香港智營設計大賞銅獎,更在今年首度與超跑品牌McLaren麥拉倫合作,推出全球限量款電致變色太陽眼鏡,更是在
今年獲得國際眼鏡展VisionPlus Awards 2021 (Arabia)評審團獎項,也讓ONESEC名聲享譽國際。
2011年ONESEC在瑞士研發低功耗電致變色鏡片技術中心,投入極速鏡片變色技術的研發,將電致變色鏡片技術應用於太陽眼鏡
產品上,並取得美國、韓國、日本、中國專利認證,成為眼鏡技術上的一大突破。
ONESEC將在今年11月11日於台灣官網上市,品牌全系列眼鏡皆有「電致變色」鏡片功能,目前官網已有4款眼鏡首度亮相,
有商務風格的「MARK I」系列以及經典不敗款「Aviator 飛行員」,也特別推出符合時尚造型女性款「Lynx 山貓」及日常
百搭款「Nomad 型人」。